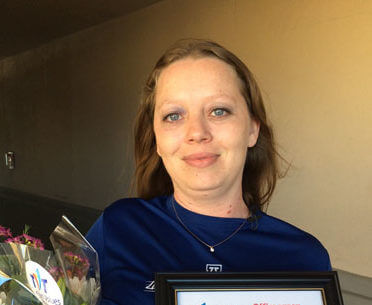 AND THE TEACHER EXCELLENCE AWARD GOES TO…..
Autumn Sullivan is our TVT/OfficeMax/Depot Teacher Excellence Award winner for February 2015! Autumn teaches 4th Grade at La Paloma Academy – Central, and from the excitement generated by her st…udents, principal and colleagues, it is clear why Autumn is such an EXCEPTIONAL TEACHER!
Autumn was nominated by fellow teacher Caroline Marvin who says, "This teacher, time and time again, demonstrates a keen interest in all of her student's lives. She routinely meets with parents to get to the heart any problems and loves to work with parents to help their children grow. Mrs. Sullivan has helped me numerous times during any given school day. She leaves these little positive notes for everyone throughout the day and can be found encouraging either students or teachers on campus. She truly deserves a big THANK YOU from all of us here at our school bringing cheer to everyone she encounters."
As part of the honors, Mrs. Sullivan received a $100 OfficeMax/Office Depot gift card, a Teacher Excellence Award plaque, flowers and school supplies. Not to mention bragging rights! Thanks for all you do for La Paloma students, Mrs. Sullivan! Keep up the good work.