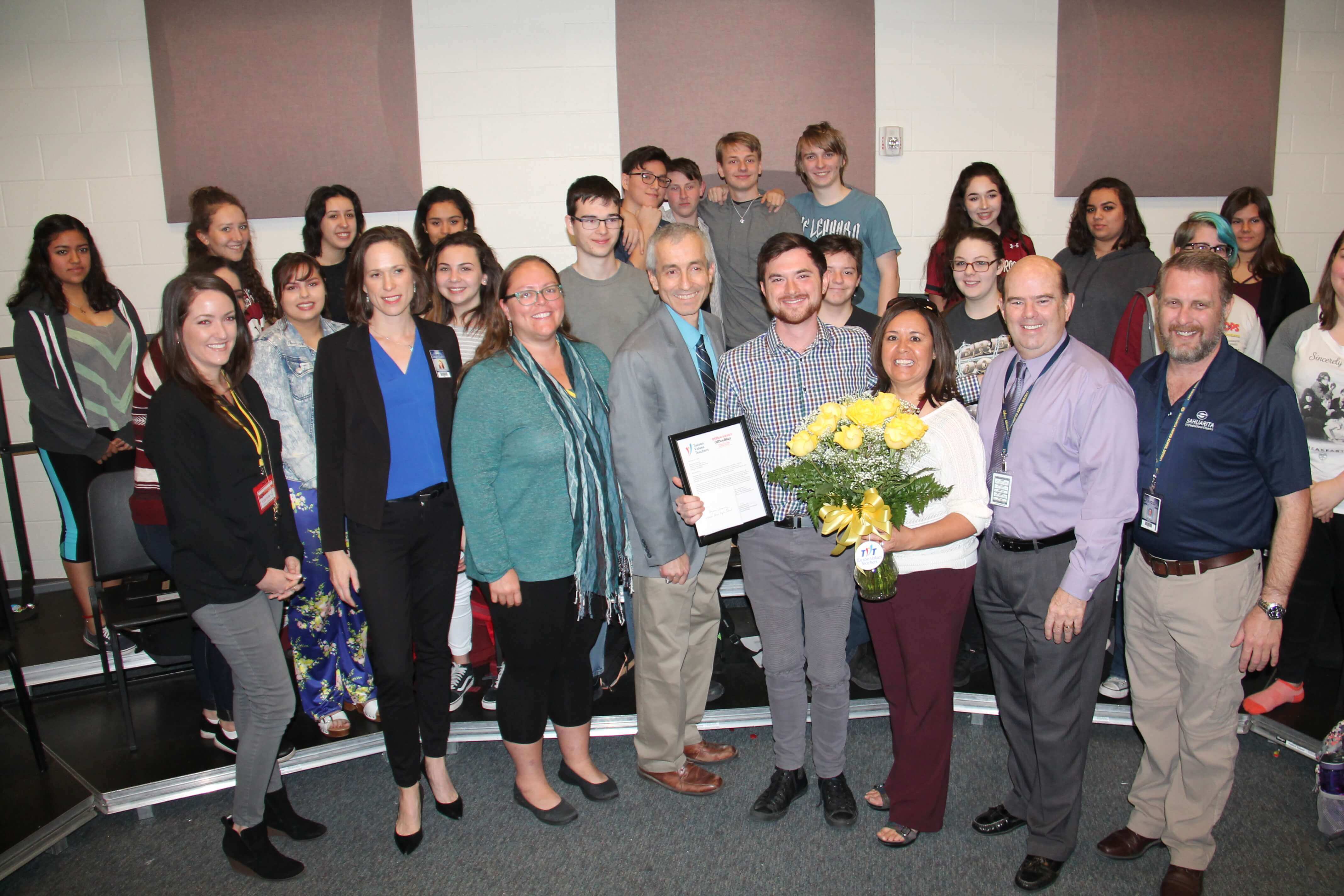 Congratulations to Benjamin Lebovitz!
Mr. Lebovitz–a 9-12th-grade Choir/Drama teacher at Walden Grove High School in Sahuarita Unified School District–received the February 2018 Teacher Excellence Award! He received flowers, school supplies and $100 gift card from Office Depot/OfficeMax, as well as a plaque and a $250 cash award from TVT!
Mr. Lebovitz was nominated by Ryan Carle-Ogren , a fellow teacher at Walden Grove HS.  In his nomination, Mr. Carle-Ogren stated, "As the choir and drama teacher, Mr. Lebovitz focuses on excellence in both programs. Both programs have received top ratings at local and state festivals. Additionally, he serves the entire student body as the QSA advisor, ensuring every student has a safe space no matter who they are or what they believe. Further, he continually helps other faculty members through any tech needs at performances. Mr. Lebovitz is a core pillar of the faculty at WGHS. Walden Grove High School would not be where it is without his dedication, enthusiasm, and unwavering support of all in everything he does."
Also in attendance to celebrate his award; Sahuarita Superintendent of Schools/Dr. Manuel Valenzuela,  Walden Grove High School Principal/Teresa Hill,   Assistant Principal/Hector Estrada,   Sahuarita School Board President/John Sparks, Sahuarita Mayor and School Board Member/Tom Murphy,  School Board Clerk/Dalia Zimmerman,  as well as Mr. Carle-Ogren. To complete the presentation, the choir was treated to celebratory donuts, which were enjoyed by all!
Congrats, Mr. Lebovitz!