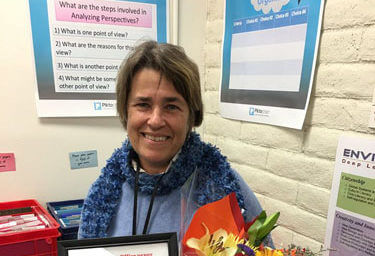 The November 2015 TVT/OfficeMax/Depot Teacher Excellence Award was presented to Carol Schaedler, Social Studies at Orange Grove Middle School in the Catalina Foothills Unified School District. School and district leadership joined together for the big SURPRISE award presentation. It is clear from their excitement — and the excitement of her students — why Carol is such an EXCEPTIONAL TEACHER!
Carol has been teaching for 29 years(!!) and was nominated by fellow teacher Andre…a Chadwick, who says, "Carol Schaedler is dedicated to her craft, her students, and her school community. Throughout her career, Carol mentored new teachers, created an innovative program for at risk students, developed creative curriculum, and implemented an alternative program involving peer justice. Because she cares deeply about the success of all students, Carol created a summer program for failing students. Carol takes these challenges on willingly. Carol inspires her students to be passionate about learning. She can be found helping students while simultaneously supporting colleagues. She continually looks for ways to engage her students while refining her teaching. She exemplifies a master teacher."
As part of the honors, Carol received a $100 OfficeMax/Office Depot gift card, a Teacher Excellence Award plaque, flowers and school supplies. Not to mention bragging rights! Thanks for all you do for Orange Grove MS students, Ms. Schaedler! You are an inspiration!