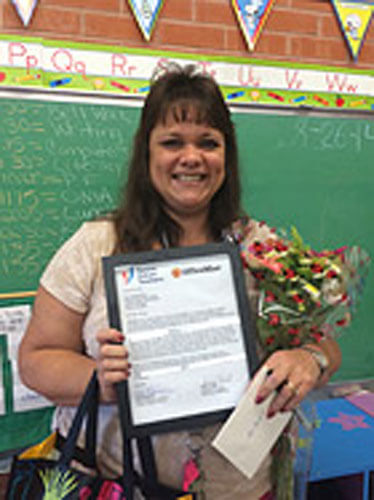 The August 2014 TVT/OfficeMax Teacher Excellence Award was presented to Mrs. Cindy Barnett, 2nd Grade teacher at Marshall Elementary School in the Tucson Unified School District.
Cindy was nominated by Carolyn Schulter, who stated, "Mrs. Barnett is a wonderful teacher. She begins the year with a warm welcoming classroom. Her goal for the year is to have every student succeed. For many, this is learning to read, practicing math, or even just learning how to be a better person. Scores always improve, but students are her priority. At the end of the school year, her students always ask her if she can teach them again next year. Her students love her, she gets along great with her fellow teachers, and parents are always please with how willing she is to help her students. Overall, Mrs. Barnett is one of the most amazing teachers and deserves recognition for all that she does."
As part of the honors, Mrs. Barnett received a $100 OfficeMax gift card, a Teacher Excellence Award plaque, flowers and school supplies. Not to mention bragging rights!