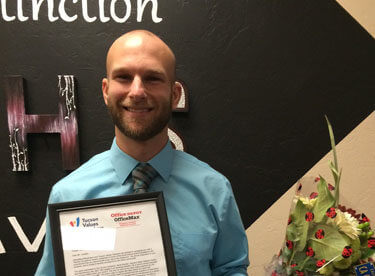 The December 2015 TVT/OfficeMax/Depot Teacher Excellence Award was presented to Derek Langley, Math and Science Teacher at Empire High School, Vail Unified School District. School and district leadership joined together for the big SURPRISE award presentation. It is clear from their excitement — and the excitement from his students — why Derek is such an EXCEPTIONAL TEACHER!
Derek was nominated by four of his students, Jacob Bruster, Cameron Bost, Brittany Flores, and Ajia Barnes, who said, "Mr.Langley is an amazing teacher. He is such a caring individual and is very helpful when you need it. The way he sets up his class really prepares you for what the future has to offer. You have a day or maybe two days where you learn the information and then basically the rest of the week to practice and ask questions if need be to prepare for the test or quiz. This is such a helpful way for learning for me because as a senior I feel like he's not wasting my time with information that I don't find interesting. He tells us what we need to do and basically makes us take responsibility for our actions, which is a great way of learning for me because this is how it will be for us in college. He hasn't sugar coated anything and I appreciate that the most about Mr.Langley."
As part of the honors, Derek receives a $100 OfficeMax/Office Depot gift card, a Teacher Excellence Award plaque, flowers and school supplies. Not to mention bragging rights! Thanks for all you do for Empire High School students, Mr. Langley! You are an inspiration!