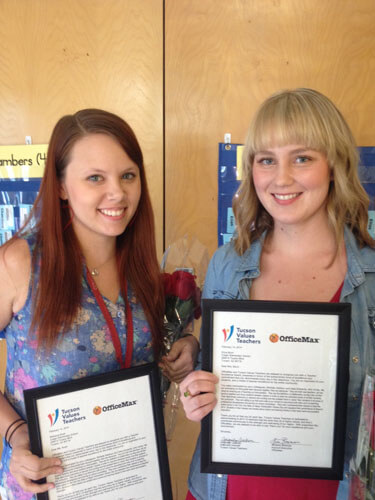 The February 2014 Teacher Excellence Award was presented to TWO deserving teachers at Cragin Elementary School in the Tucson Unified School District.  Erica Blunt and Rebecca Bush are a 3rd Grade teaching team that were nominated by two colleagues at Cragin.
Their nomination reads: "We are nominating our third grade team because together, they are awesome! They are both new teachers, but are doing an amazing job of teaching our third graders. They are the definition of collaboration as they plan all their lessons together and move students between classes in order to meet the individual needs of all their students. Their data-driven instruction is relevant and exciting and has enabled them to "grow" their students in all areas of the curriculum. They are willing to go that extra mile at our school by assuming extra roles such as teaching professional development and serving on school committees. They even volunteered their classes to lead the entire school in the Cha Cha Slide on Mayor Rothschild's Fitness Day and repeated their performance at Beyond 2014. Students in their classes are excited about school and learning thanks to their team work and excellent instruction."
Congratulations Erica and Rebecca! Tucson Values Teachers is proud to honor such OUTSTANDING TEACHERS! Keep up the good work.