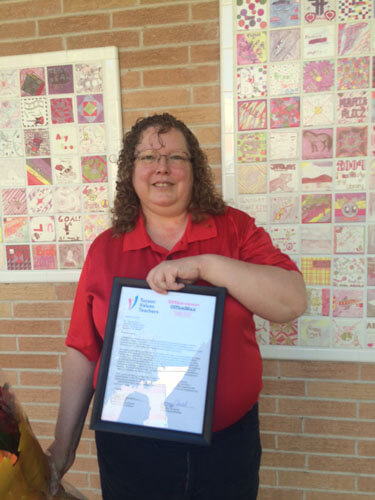 The October 2015 TVT/OfficeMax/Depot Teacher Excellence Award was presented to Glenna Harrel, Language Arts at Sahuarita Middle School in the Sahuarita Unified School District. School and district leadership joined together for the big SURPRISE award presentation. It is clear from their excitement — and the excitement of her students — why Glenna is such an EXCEPTIONAL TEACHER!
Glenna was nominated by fellow teacher Lisa Kettles, who says, "I am …nominating Ms. Harrel because of her dedication and positive attitude toward our students at Sahuarita Middle School. I teach next door to her and I hear her innovative ideas and creative lesson plans every morning. She treats each student with respect and values each student with her cheerful morning greetings every day. Her high expectations are evident in the academic progress she has made with each student. She spends extra time in the morning working with students who have questions and continues to strive for excellence in teaching. On behalf of her students, we appreciate her time, dedication, and persistence in helping our students be all they can be."
As part of the honors, Ms. Harrel received a $100 OfficeMax/Office Depot gift card, a Teacher Excellence Award plaque, flowers and school supplies. Not to mention bragging rights! Thanks for all you do for Sahuarita MS students, Ms. Harrel! You are an inspiration!