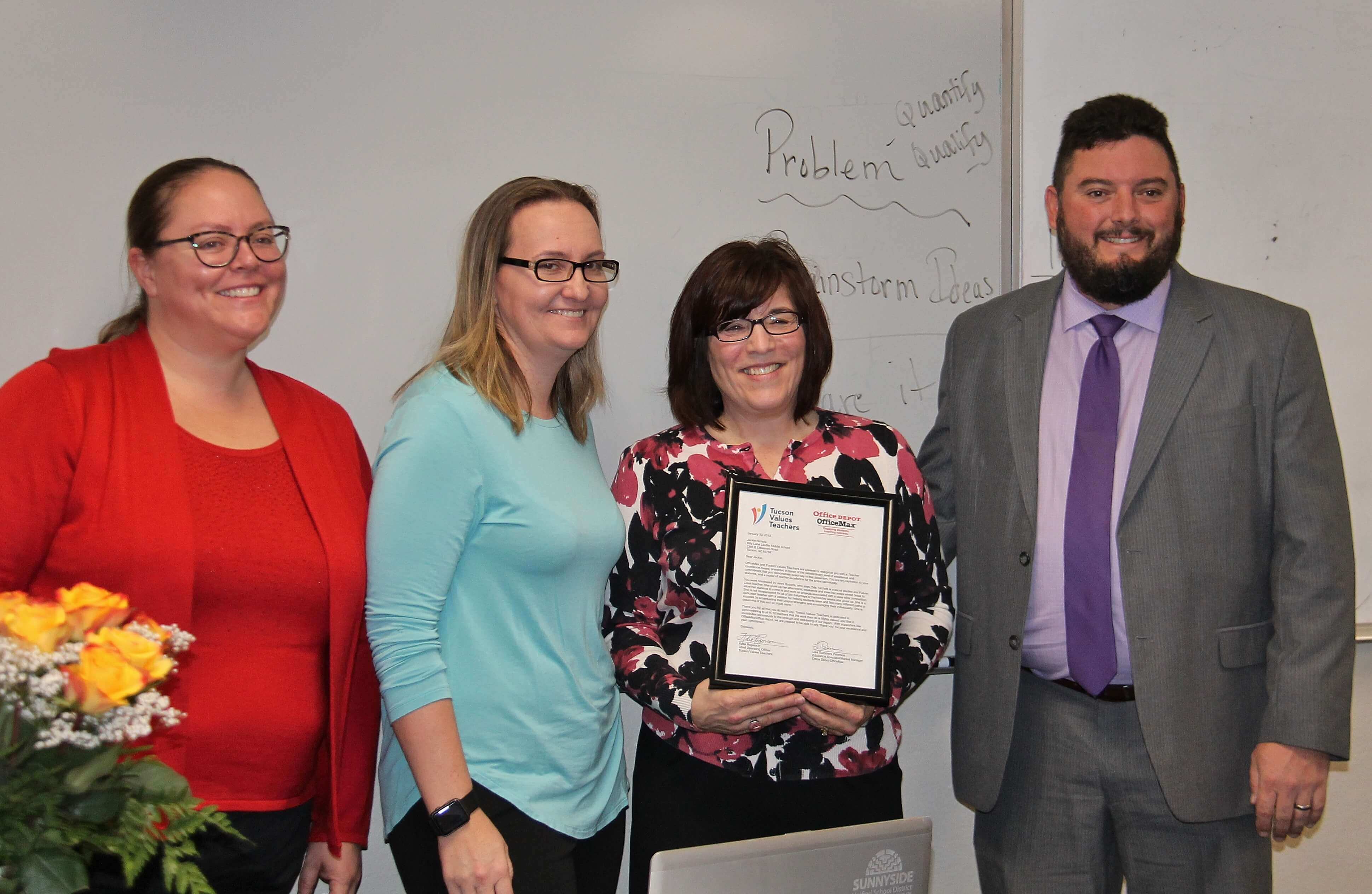 Congratulations to Jackie Nichols!
The January 2018 Tucson Values Teachers (TVT) Teacher Excellence Award was presented to Ms. Jackie Nichols– a Social Studies and Future Cities Program teacher at Lauffer Middle School in Sunnyside Unified School District.
Joining in on the award presentation from Sunnyside School District were Thom Luedemann, Principal at Lauffer, and Donna Samorano, Academic Behavior Student Support at the school, as well as Ms. Nichol's mother, Sheri,  and husband, Joe Solorio. And of course, an enthusiastic Future Studies class!
Jenni Roberts, a parent of one of Ms. Nichol's current students, was also in attendance. She nominated Ms. Nichols for the award, stating:
"Ms. Nichols is a social studies and Future Cities teacher. She gives up her afternoons, weekends and even her entire winter break to allow her students to come in and work on projects associated with a statewide competition. She is not compensated for all of the Saturdays or the holiday weeks she gives up. She is a dedicated teacher with a passion for helping students learn and find many different paths to success by accentuating their unique strengths and encouraging their individuality. She is deserving of this and so much more. Thank you, Ms. Nichols." 
As part of her award, Ms. Nichols received a $100 OfficeMax/Office Depot gift card, a Teacher Excellence Award plaque, flowers, and donuts to share with her class.  Teacher Excellence Award winners also receive a $250 cash award, which is new to the program these year thanks to generous funding of Tucson Values Teachers through TEP and the Helios Education Foundation.
 Congrats, Ms. Nichols!