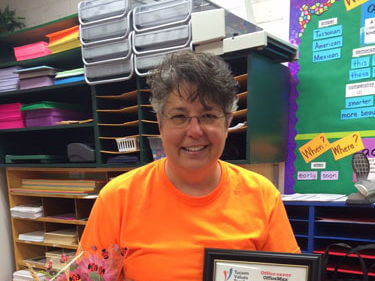 The October 2014 TVT/OfficeMax/Depot Teacher Excellence Award was presented this morning to Jennifer Goitia, 3rd Grade Teacher at Elvira Elementary, Sunnyside Unified School District.
Jen was nominated by Principal Andy Townsend who says, "Three words come to mind when asked to describe Jen Goitia as a teacher: passionate, dedicated, and loving. Ms. Goitia is likely the best teacher you've never heard of, and that's the way she prefers it. Although everyone at Elvira Elementary knows that Jen Goitia is a master teacher, she isn't interested in titles or accolades. Instead, she prefers to show up every day for school early, teach with passion and love all day long, stay late into the evening… and then repeat. Day after day, year after year, for the past 25 years – all at Elvira. Talk about dedication! If a student is behind, Ms. Goitia will tutor in the early morning before school – or after school. She's willing to do whatever it takes to help her students succeed, and does it from the heart. There might be other teachers in Tucson who are similar to Jen Goitia, but there are none better. She brings "that something extra," and more – truly an incredible teacher and overall person."
As part of the honors, Ms. Goitia received a $100 OfficeMax/Office Depot gift card, a Teacher Excellence Award plaque, flowers and school supplies. Not to mention bragging rights! Thanks for all you do for Sunnyside students, Ms. Goitia! Keep up the good work.