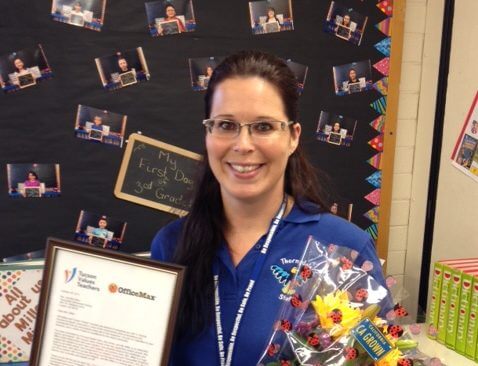 Congratulations to Jennifer Miller, 3rd Grade science teacher at Thornydale Elementary. Jennifer is our October 2013 TVT/OfficeMax Teacher Excellence award winner.
Jennifer was nominated by Principal Sarah Clem who wrote: Jennifer Miller is an AMAZING person and teacher. She focuses every minute of her day supporting student growth. Mrs. Miller builds relationships with every student. She prepares lessons that challenges and inspires her students to work hard, work together and achieve more. Mrs. Miller is a huge asset to our entire school. She co-sponsors our Student Council and Thornydale Songbirds. Through these after school groups she brings out the best in those around her. She develops our future leaders with kindness and integrity. Jennifer Miller is a shining star and the kind of teacher that motivates and inspires us all!
LITTLE DID WE KNOW…. It's also Jennifer's birthday! HAPPY BIRTHDAY MRS. MILLER!
We salute you!  Keep up the outstanding work!