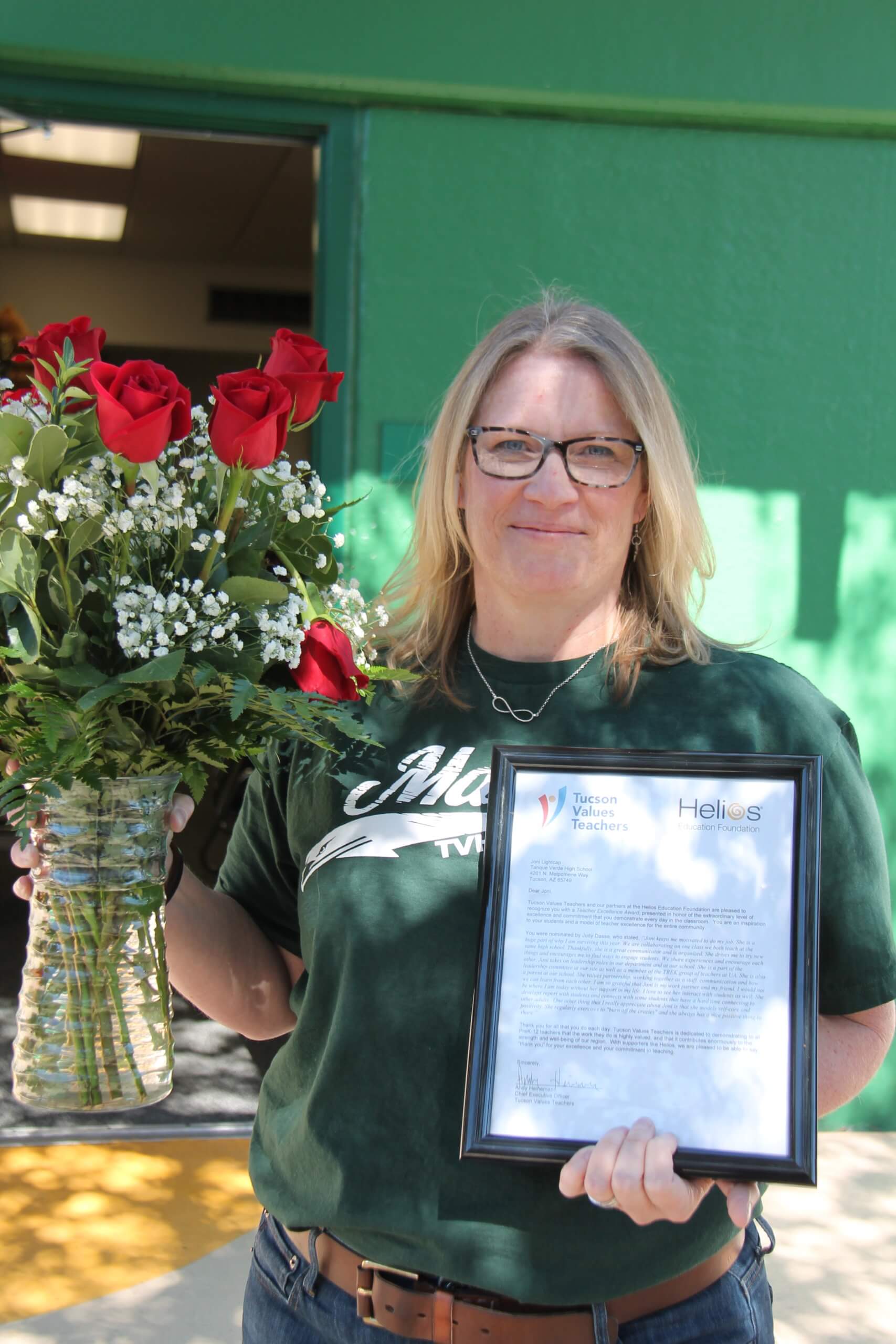 Tucson Values Teachers (TVT) presented the February Teacher Excellence Award today to Joni Lightcap, a math teacher at Tanque Verde High School. Lightcap, who is the professional learning community (PLC) leader for the math department on the Instructional Council, is in her fourth year at the high school but has been teaching since 1999.
In addition to her work on campus, Lightcap is a second-year teacher leader with the Tucson Regional Educator Collaborative (TREC), where she leads a book study on Elena Aguilar's "Onward: Cultivating Emotional Resilience in Educators."
Lightcap's own resilience this year was highlighted in her nomination. Judy Dasse, a former Teacher Excellence Award winner and fellow math teacher at Tanque Verde High School, nominated Lightcap for the award.
"One thing that I really appreciate about Joni is that she models self-care and positivity," said Dasse. "She drives me to try new things and encourages me to find new ways to engage students. We share experiences and encourage each other."
Lightcap is currently teaching both in-person students and those learning remotely. Utilizing both her phone and computer to have more freedom from her desk during instruction, Lightcap is able to provide support for both groups of learners. "We're making it work, but it is the greatest challenge I have faced so far in my teaching career," said Lightcap.
Tucson Values Teachers spotlights quality Southern Arizona teachers every month. Teachers are nominated through Tucson Values Teachers' website by colleagues, students, friends, and other community members. Winners of the Teacher Excellence Award receive $250 cash courtesy of Helios Education Foundation, a $100 gift card for classroom materials, and flowers.
More information about the Teacher Excellence Award, including the nomination form, can be found at www.tucsonvaluesteachers.org.