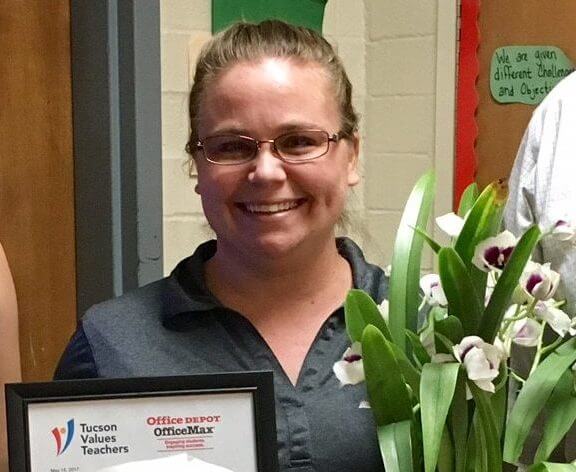 Congratulations Katie Montgomery! Mrs. Montgomery is a teacher at Apollo Middle School in the Sunnyside Unified School District, and received a May 2017 Teacher Excellence Award. She received flowers and a plaque from TVT,  a $100 gift card from Office Depot/OfficeMax, a Ben's Bell, and pizza for her classroom!
Mrs. Montgomery was nominated by fellow teacher Priscilla Fischback, who says, "Katie Montgomery is an exceptional STEM teacher. She is always willing to take on new projects to bring real world experiences to her students. She is the science fair coordinator, AVID teacher, MESA advisor, EDCorp Business Club Teacher, and the list goes on. At times, she doesn't get the recognition she deserves for all she does and continues to do for her students. She has also helped me keep it together on days when I just couldn't take it anymore and I thought I would give up. She is an amazing teacher and exceptional coworker."
Kudos, Mrs. Montgomery! Thanks for all you do!