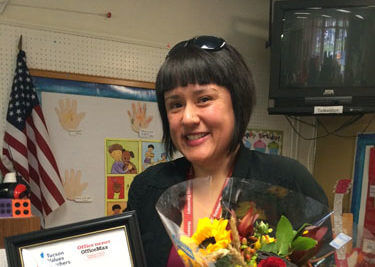 The November 2014 TVT/OfficeMax/Depot Teacher Excellence Award was presented this morning to Kim Moran, Primary CCSC Teacher for K-2 Grades at Holaway Elementary, Amphitheater Public Schools. Making this honor even more deserved, Kim just became a National Board Certified Teacher this week!
Kim was nominated by colleague Allison Saine who says, "Primary CCSC is a class room of children K-2nd with a range of special needs. Before Mrs. Moran took over these students were held at no expectation. When she took over, the days of coloring and watching cartoons was over. Since she has taken over, she has REVOLUTIONIZED the classroom. These students who\'s disabilities range from muscular to autism are held academically accountable daily! Kim Moran is often observed by other Teachers in the district because she runs a model classroom! And I am PROUD to work alongside her and her big heart!"
As part of the honors, Mrs. Moran received a $100 OfficeMax/Office Depot gift card, a Teacher Excellence Award plaque, flowers and school supplies. Not to mention bragging rights! Thanks for all you do for Amphi students, Mrs. Moran! Keep up the good work.