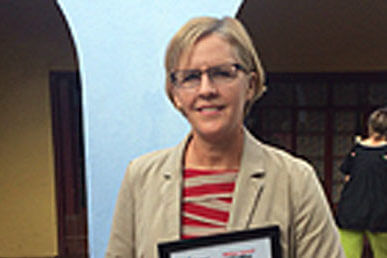 The September 2015 TVT/OfficeMax/Depot Teacher Excellence Award was presented this morning to Kristi Chapman. Kristi teaches Grades 3, 4,and 5 at Miles Exploratory Learning Center in Tucson Unified School District (TUSD). Family members, TUSD Superintendent Dr. H.T. Sanchez and other district leadership joined together for the big SURPRISE award presentation. It is clear from their excitement — and the excitement of her students — why Kristi is such an EXCEPTIONAL TEACHER!
Kristi was nominated by colleague Patty Mitchell, who says, "Kristi always challenges herself right along with her students. Anytime you walk into her classroom you will see students engaged in experiments, discussions, writing, reading and math. Kristi earned her National Board Certification because she wanted to look critically at her own teaching to challenge her own practices. The benefit of that outcome is seen daily with her students and with her interactions with her peers. Projects, deep discussions and fun epitomize Kristi\'s classroom."
As part of the honors, Mrs. Chapman received a $100 OfficeMax/Office Depot gift card, a Teacher Excellence Award plaque, flowers and school supplies. Not to mention bragging rights! Thanks for all you do for Miles ELC students, Mrs. Chapman! You are an inspiration!