Teacher Appreciation Week

In celebration of National Teacher Appreciation Week, this year's event was a week-long celebration May 7-13.
Partnering with the Pima County School Superintendent, TVT kicked off the week with Teacher Appreciation Night at the UA Baseball game at Hi Corbett Field. Over 500 teachers came out to enjoy the game with their families and friends.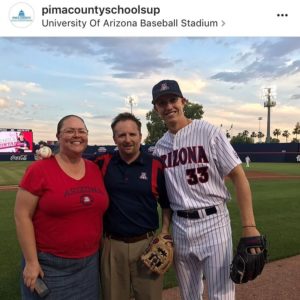 TVT also presented six Teacher Excellence Awards to outstanding teachers in the community! Each teacher received a $100 gift certificate to Office Depot/OfficeMax, a plaque, flowers, a Ben's Bell, and pizza for the whole classroom courtesy of Humble Pie.
TVT Chief Operating Officer Katie Rogerson and Pima County School Superintendent Dustin Williams recapped the week's events with an appearance on KGUN9's Tucson Morning Blend